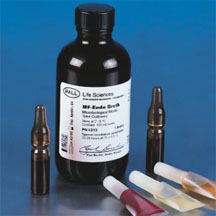 미생물 분석 앰플
Meets Membrane Filter (MF) Technique Standard Method requirements with 2 mL ampoules.*
Maximizes efficiency with premixed and presterilized media.
Choose between plastic or glass ampoules for your applications.
Simplify pouring of the media with wide-mouth glass ampoules.
All plastic ampoule media is economically packaged with 50 ampoules per box.