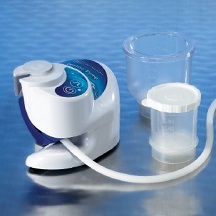 미생물학 펌프
Compact design frees valuable benchtop space and provides flexibility for an efficienct workflow.
Minimal height of the pump allows convenient use in a hood that can limit upward range of motion during routine analysis.
Pump's disposable fluid path is simple to load and completely disposable to eliminate potential biofilm build-up.
Uni-directional peristaltic flow design pulls sample through the filter and fluid path eliminating the need for a vacuum source, and reducing potential for back-up and contamination of analysis.
Fixed filtration parameters meet the Membrane Filter (MF) Technique filtration parameters described in U.S. EPA, ISO, and ASTM standards.
Shape of unit and materials of construction are easy to wipe down with standard laboratory disinfectants.
Soft-touch keypad has simple on/off function and pulse features to control filtration.