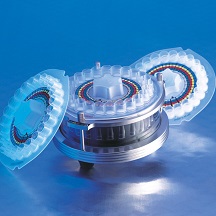 필터시스템
Reduces labor time by 20 minutes per carousel over the conventional
syringe filter technique.
No need to use cumbersome, individually wrapped, disposable syringes. Use disposable pipette tips which are less costly, easier to use, and require less bench space.
Designed for use with Waters Alliance HPLC systems.
Pall's HPLC certification ensures that analytical results will not be compromised by extractable filter material.
No cross-contamination. Each 1.9 mL well is individually sealed, ensuring your sample will accurately dispense into the Waters Alliance sample carousel* with no crosscontamination
or splashing.
Materials of construction are identical to Pall's Acrodisc® syringe filters; if you are currently using Acrodisc syringe filters, this will reduce the requirements for validation of the AcroPrep 24 filter plates.
Can be used with any conventional 12 x 32 mm vials; simply transfer your filtered samples from the Waters Alliance sample carousel to any HPLC sample carousel that houses 12 x 32 mm vials and save
both time and labor. Can be used to process fewer than 24 samples. Simply label used wells or isolate unused wells with parafilm for application at a later time.