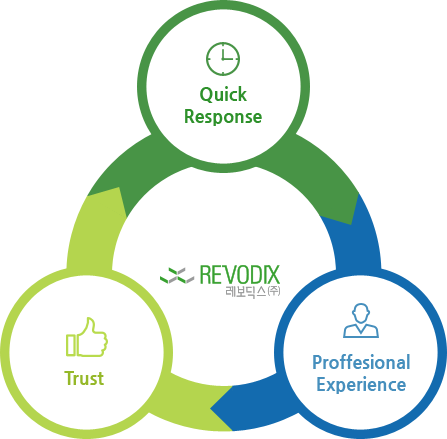 Greetings! Thank you for visiting our We site.
REVODIX Inc. is founded in 1995, and has been a leading company in Laboratory and Nano Fluidics field as a supplier of Basic Lab Instrument, Analytical Instrument, Precision Pump, and Other Consumable. Furthermore, based upon various experience for several years, we offer the optimal solutions for Pharmaceutical, Government, University, Food, Bio, Semiconductor, Electric and Electronics related fields. Dealing with around 50 brands like as Exclusive distributor, REVODIX is the best partner for your experiment and research. We thank you again for your consistent support, and promise that all of our executives and staffs will give you 100% satisfaction through the ceaseless development.
Executives and Staffs of REVODIX Inc.
Company Name
REVODIX Inc.
CEO
Jong-Hoon Shin
Address
Head Office : #334 ITECO B/D, 150, Jojeong-daero, Hanam-si, Gyeonggi-do, 12930, South Korea
Daejeon Branch : #701 New Hanjin Officetel, 31, Daehak-ro, Yuseong-gu, Daejeon, 34168, South Korea
Tel
Head Office : 82-31-790-1907
Daejeon Branch : 82-42-824-5167 (or 5168)
Fax
Head Office : 82-31-790-1908
Daejeon Branch : 82-42-824-5169
Website
www.revodix.co.kr
E-mail
sales@revodix.co.kr