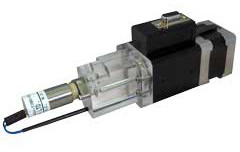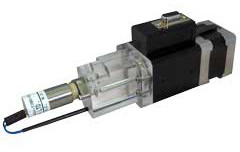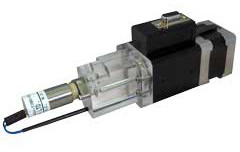 2000 Series Pump
OEM 인라인 시린지펌프 (장비장착형)
제품설명
OEM INLINE Type Syringe pump
Resolution: 10,000, 20,000 Half Steps
Full Volume Dispense – 500ul to 5mL
Valve Type Option – 2 way / 3 Port Solenoid Valve
Maker : KLOEHN / USA
연락처
경기본사 : 031-790-1907 (내선3)
대전지사 : 042-824-5167
The InLine 2000 is a compact piston-based pump offered with either a 10k or 20k full stroke resolution, a variety of syringe volumes and a solenoid valve option. The pump features a direct drive stepper motor and lead screw combination with a positive displacement style seal and a user-friendly DB9 connector interface with an integrated home position sensor at the full dispense position. The InLine 2000 offers exceptional accuracy and precision at a fantastic value.
Mechanical
• Operation in any orientation
• *Mounting Configuration (see Figure 1)
• Motor: 1.8 Degree Full Step
• Two resolutions available (10,000 and 20,000 half steps)
• Pressure: **VAC to 100psig (50psig w/ valve option)
• Full Volume Dispense – 500ul to 5ml
• Valve Type Option – 2 way / 3 Port Solenoid Valve
• 1/10 Stroke Dispense
  Precision: 0.5%
  Accuracy: 0.5%
Electrical Interface
• DB9 Female Connector 
• Bipolar Solenoid (24V)
• Optical Sensor (OPB390)
• NEMA 17 Stepper Motor (4 lead) Chemical
• Wetted Materials: Acrylic, 316 Stainless Steel, UHMW-PE
• Additional Wetted Materials (w/ valve Option): EPDM, PEEK Ancillary items:
• Operator's Manual P/N 30847; and FAQ.
20K Resolution (Half Step)

Positive Displacement Type
EPDM Valve & Acrylic Manifold
Positive Displacement Type
No Valve & Acrylic Manifold

2.5 ML (.25 µL/Step)

56250

56255

5.0 ML (.50 µL/Step)

56261

56265

10K Resolution (Half Step)

Positive Displacement Type
EPDM Valve & Acrylic Manifold
Positive Displacement Type
No Valve & Acrylic Manifold

500 µL (.10 µL/Step)

56252

56257

1.0 ML (.20 µL/Step)

56253

56258

2.5 ML (.50 µL/Step)

56254

56259